If you buy any of these items, please come back to this list and click the "Reserve" link to mark which item(s) you purchased. This will help ensure that Mistress Malissia does not get duplicate gifts.
My Wishlist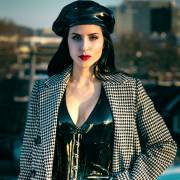 Ms Malissia
9126 rue Lajeunesse, suite 300
H2M 1S2
Montreal, Qc
Canada

So you want to serve, please and worship Mistress Malissia? It has never been easier.
Here, you can indulge in Her luxurious taste, discover Her material preferences and offer Her the carefully chosen items She has picked. Whether you want to be useful or make an impression, sending thoughtful gifts is the best way to show your devotion to your Goddess.
MissMalissia
15 August, 1991