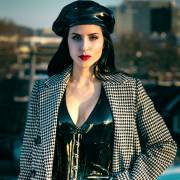 Mistress Malissia
MistressMalissia
Followers
About Mistress Malissia
So you want to serve, please and worship Mistress Malissia? It has never been easier.
Here, you can indulge in Her luxurious taste, discover Her material preferences and offer Her the carefully chosen items She has picked. Whether you want to be useful or make an impression, sending thoughtful gifts is the best way to show your devotion to your Goddess.
Contact Me by email to receive my address and send your thoughtful gifts.
Mistress.Malissia@outlook.com